I spent the week-end in Berlin – discovering the neighbourhood of Neukölln and, particularly, its wine bars! Not exactly on purpose, but subconsciously driven by my current fascination for "natural wines", "raw wines", "naked wines", "low intervention wines", whatever you would like to call this phenomenon, I went to three different "natural wine" bars. Here's what I thought of them!
La Malo – bar, bistrot and wine shop à la française
"Malo" stands short for "fermentation malo-lactique", malo-lactic fermentation, in which bacteria transform the naturally occurring and tart acid in the grapes into a milder tasting lactic acid. Through "la malo", red wines get softer  and rounder, white wines such as Chardonnay get a "greasy" touch (don't get me wrong, a greasy texture isn't necessarily bad, quite the opposite) as well as a silkier texture. An undesirable effect can be a yoghurty or cheesy taste in the wine. That's when malolactic fermentation took it too far.
A very fitting name, however. The heart and mind of the "La Malo" bar/bistrot/wine bar is Pierre Lejeune, who is not only fond of natural wines, but also very fond of fermenting food. Unfortunately I couldn't taste anything from the tempting menu, because I was still so full from having eaten almost the whole menu of JAJA Berlin. Oh, well! I had to stick to the wine. Which, in my case, was a very nice, spicy and fresh Orange Wine, Analepse from the Domaine Les Terres Promises in Provence.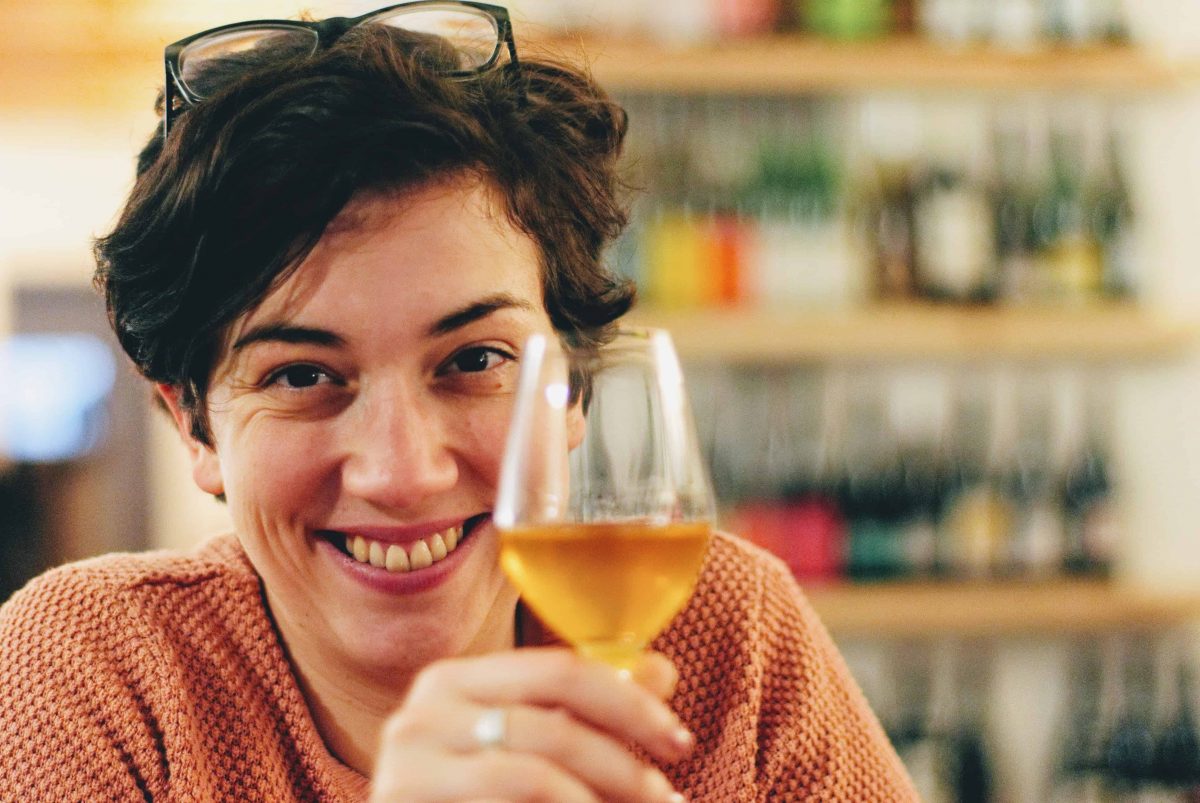 La Malo has a very reduced interior design, using lots of wood and light, which creates a very warm and relaxing atmosphere. The only decoration, if you will, are the wine bottles, ligned up very prettily on the walls.
What can you expect? A very pleasant, relaxed wine bar, where you can spend a smooth evening with some soigné natural wine and fine food. Très français, but with a modern and experimental touch.
Naturtrüb Festival #2 on 24th/25th of November
JAJA Berlin – a diamond in disguise
If you want to go to JAJA (pronounced: shah-shah, with a French "j" soft as ripe brie cheese) – which you absolutely should, provided that you like food and wine! – make sure to book a table in advance! On the Friday night we stepped into this dimly lit, charming wine bar in the middle of Neukölln, there was not one table left.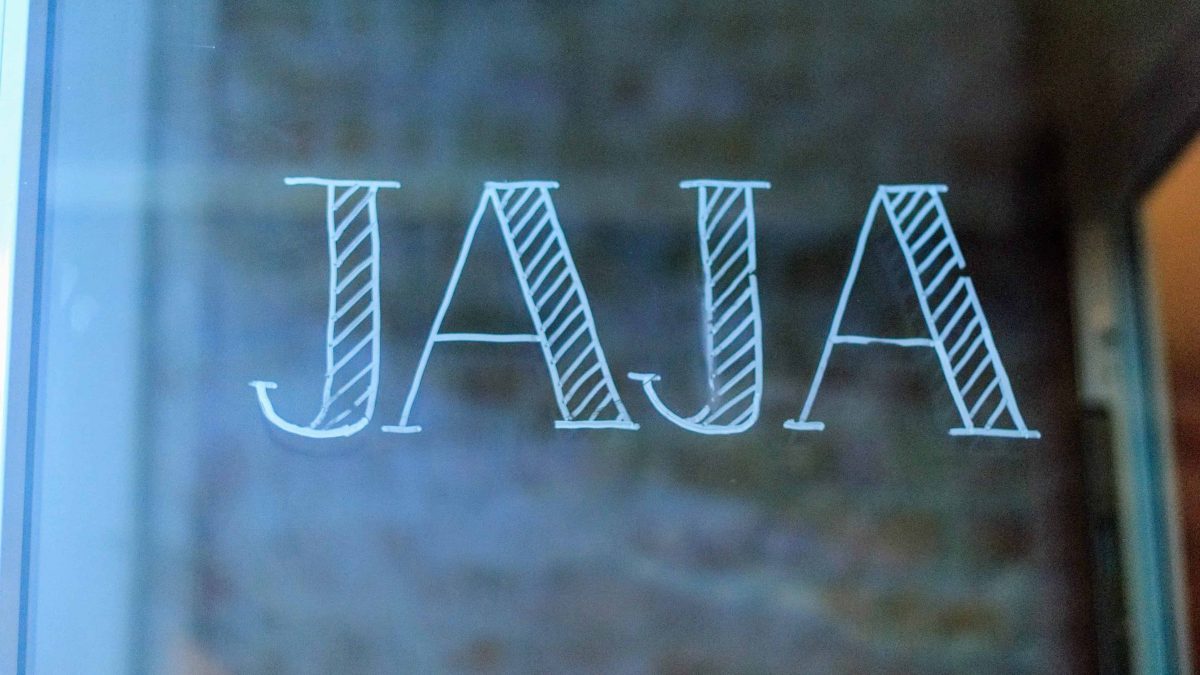 JAJA, owned by Etinenne Dodet and Julia Giese, is a self-defined "bar à manger" – a wine bar, which also serves Tapas. The principle is family style eating: You order a couple of dishes for your table and share. Since it's a bar, the wine should still play the star role – I, however, feel that the food is much more than a mere sidekick. An only average wine would disappear next to the amazing little art works JAJA cook Yailen Diaz is serving. Fortunately, none of the wines at JAJA is average. The food and the wine complement each other perfectly. We had some very nice, velvety and intense Chenin Blanc from Catalonia as well as a refreshing, crisp Müller-Thurgau as an apéritif before getting serious with some dark and full-bodied Côte du Roussillon, the heaviest wine on the menu. In a second round of reds our hearts were lifted by a light and vibrant Côte du Rhône – "Haut les coeurs!" from the Domaine Les Maoù.
Food-wise we got completely carried away, ordering not only one, two or three, but eight out of ten proposed dishes (for three persons, I must add). Buttery roasted cauliflower with black garlic and crunchy almonds, a masterpiece of octopus and mussles on deliciosly soft focaccia bread, garnished with fresh cilantro leaves and grilled tomatoes and the most wonderful dessert I have had in a long time – delicate slices of grilled pear on spicy vanilla ice cream and puff pastry with a splendid miso-caramel cream. Absolute bliss!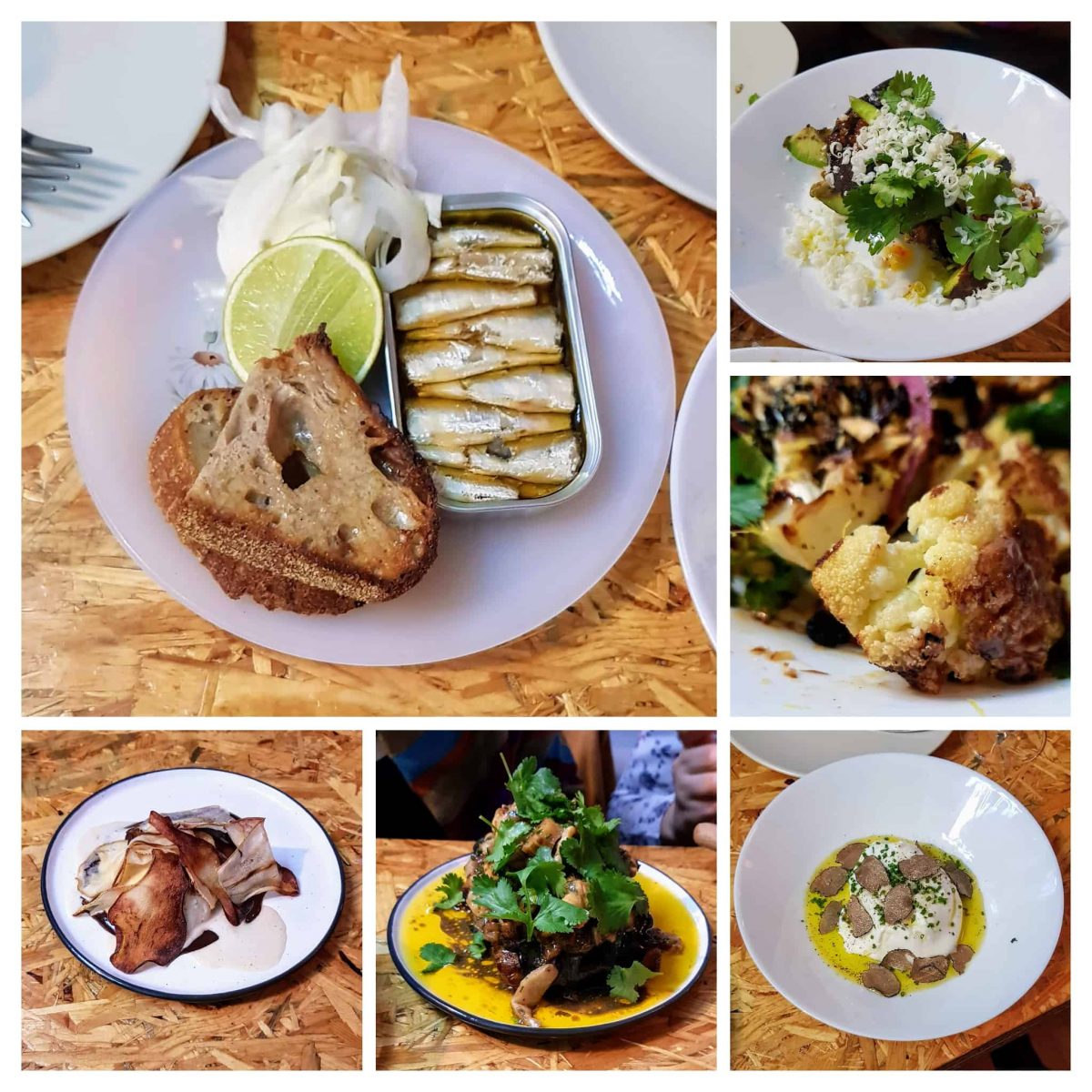 The waiters and waitresses were very attentive and both authentic and playful in terms of their gender performance, which made them all the more likeable to me.
What can you expect? An uncomplicated, hip wine bar where fantastic food and exciting wines play their respective counterpart in a beautiful and suspense-packed match. An experience not to be missed.
Naturales – fabulous, funky, familial
On our last night in Berlin we stumbled into the Naturales Wine Bar. What a lucky coincidence! A colorful, warm little wine bar where we sat down at the bar, under the sparkling reflections of a mirror ball. We were right in the middle of it, observing the very friendly waiters/owners preparing the tapas, laughing and chatting with both each other and their guests. It actually felt like stepping into an expanded living room – with a playlist playing familiar songs from the 1990s. Later that night, drag queen DJ La Bombola, made their entrance and served some nice tunes.
Pablo and Yoav are hosting this bar, which explains both the oenological as well as the culinary focus: The origin of most of the wines is Spain, home country of owner Pablo, and the tapas on the menu – such as a delighful chorizo in an oniony sauce with plenty of red wine – present a nice combination of both Israeli and Spanish cuisine.
And the wines are gorgeous. I completely fell in love with a winery I have never tasted before, the Bodegas Esencio Rural in Toledo, Castilla La Mancha. Both the Orange Wine made from Airén grapes as well as the Tempranillo from their "Pampaneo" line knocked my socks off. The Orange Wine directly carried me away on a wave of summery feelings – funky orange peel aromas, a little honey and sweet flowers in the nose, an intense, sweet aftertaste, all the while being dry and light-bodied. The red wine, too, was rather light and dry, but so velvety and soft with notes of dark berries, red fruits and aromatic herbs. Both of them were full of the Spanish sun, so much I could tell. Wow!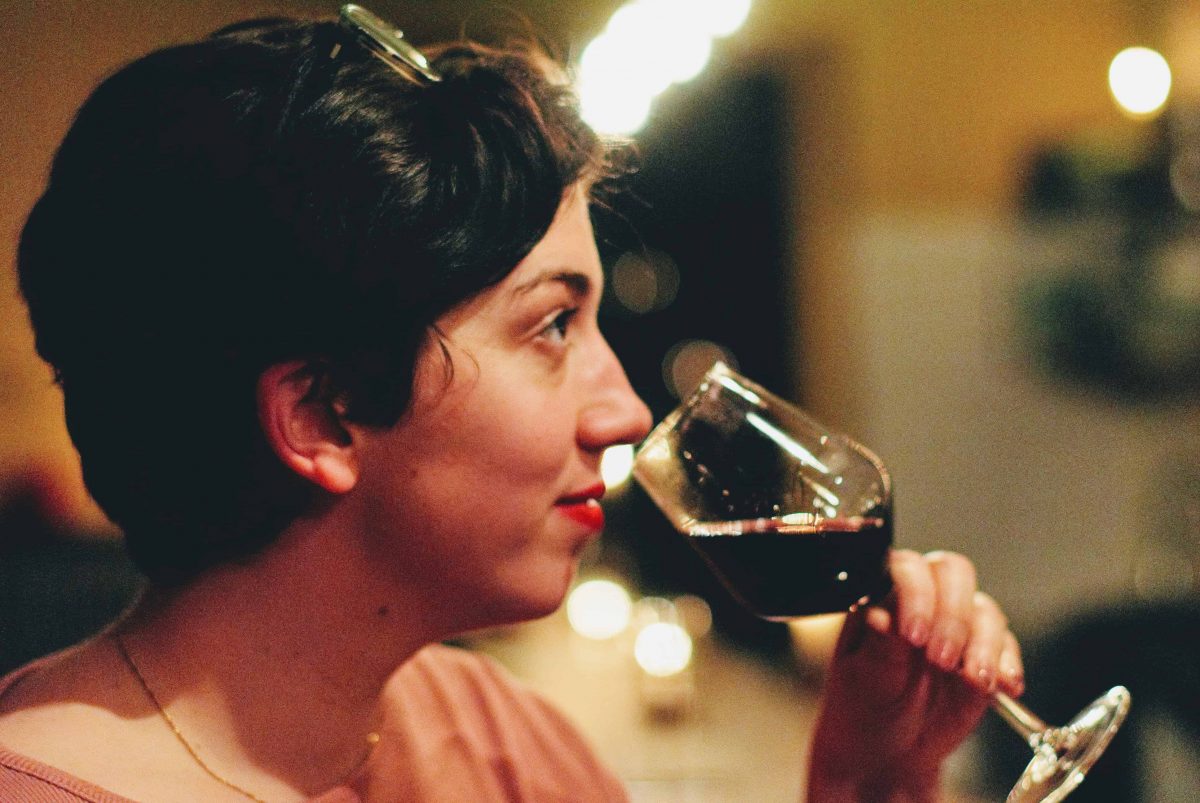 What can you expect? A funky, gay-friendly wine bar, which will make you feel at ease immediately and invites you to a little trip into the exciting world of mostly Spanish natural wines.
If you are in Berlin, go visit at least one of these little bars – each of them unique in their own way!